The life of Carlo Bilotti
Carlo Bilotti, who came from a noble southern family, was an international cosmetics buyer and, for all his life, a passionate collector of art.
In his last years Carlo Bilotti felt the need to let the public profit from his private collection and was the patron of many projects in the cities of Cosenza and Rome. He spent the last decade with his wife and their adoptive children Eric and Megan moving between Palm Beach, New York and Rome. Carlo Bilotti died at the age of 72 on the 17th November 2006.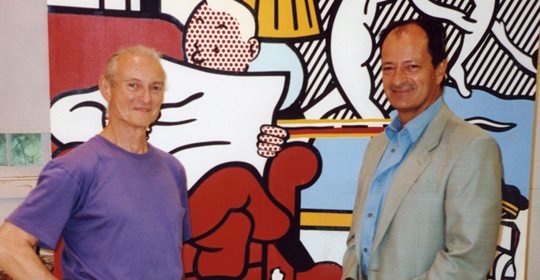 Biography
After finishing his legal studies in naples and Palermo, he began work in the construction sites and other industries owned by his parents Mario and Edvige Miceli, the baronial family of Serradileo. In 1963 he attended courses at Columbia University, New York, and in 1968 he married Margaret Embury Schultz. He was appointed vice-president for Europe of the multinational firm Shulton, and moved to Paris. In 1973, in New York, once again, he became president of Jacqueline Cochran, the perfume producer for some of the most famous cosmetic houses in Europe, such as Nina Ricci, Carven and Pierre Cardin. In Switzerland he acquired the La Prairie company and created a line of treatments promoted by Christian Barnard. As well as in Paris and New York, he was very active in the worlds of art and finance in Zurich, Basel and London.
As a collector, he became friends with many artists, including de Chirico, Warhol, Lichenstein, Dalì, de Saint-Phalle, Rivers, and Rotella. From these friendships came commissions for numerous works of art, not only for his personal collection, but also for his companies.
Two portraits displayed in the museum bear witness to his personal and cultural activities. The first, of Tina and Lisa Bilotti, was created by Andy Warhol in 1981. It is a subtle semi-photographic working of the subject, and very rare for the master of Pop Art in that it shows two people on a single canvas: Tina, Carlos' wife and their daughter Lisa (who died prematurely in 1989). There is only one other work by Warhol in the public collections of Rome. The second portrait, Carlo with a Dubuffet in the background, is a painting in relief, done in 1994by Larry Rivers, who was among the first in America to create portraits in an iconoclastic key. The Dubuffet work in the background is also part of the Bilotti collection.